The World's First Pixel Art Avatar Maker Goes NFT!
8biticon is the OG pixel art avatar maker, having been live since 2012. Combine that legacy with your ideas to create the hottest NFT collection the world has ever seen. Welcome to the one of a kind club!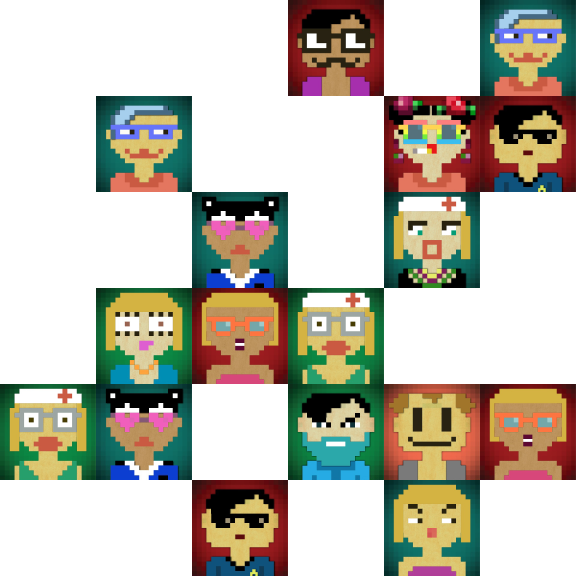 Are you the chosen one?
In the beginning, there was a Pixel. Through Pixel all things web were made. The art was made, and for nearly 10 years 8biticon was the only prophet that provided means to the people to create the said pixel art. We gave the world the tools to become pixel artists, and you crazy bunch of people went wild...
Now, it's time to take 8-bit art up another notch. Every single 8-bit avatar that YOU DESIGN from billions of elements combinations, will now be minted as an NFT. That's right, when you use the world's oldest 8-bit pixel art creation tool, you'll be creating art that's utterly one of a kind and lives on the blockchain.
Whether you're going to take on the giants or carve your own niche, you're part of the most unique community that kick-started it all. That's a legacy that makes your NFT collection immeasurably more valuable than anything Beeple can stick together!
Follow us
Your hero package includes
1.Access to the most iconic pixel art avatar maker on the web.
2.Immense selection of design attributes split by RARITY.
3.Automatic minting of NFTs.
4.Insane community airdrops of legendary attributes.
5.Cross integration with Opensea and other ground breaking suspects.
6.Capped at 11,111 unique NFT avatars.
Easy as ABC
We like to keep things simple, so we're doing just that with this new phase in the legendary website's life. To use 8biticon, you simply connect your Metamask or any other Web3 wallet.
Create your very own unique 8-bit style avatar. Choose from thousands of common, rare, super rare and unique elements to make the coolest, hippest and craziest avatar that you can imagine.
The more unique the elements you choose are, the higher the minting cost will be. Still, you can get your hands on super rare and unique elements for free by taking part in community events and airdrops, so it pays you to stay up to date!
Once you're happy with your final design, you submit your pixel avatar and approve the minting fee from your Ethereum wallet. The NFT minting process is automatic, meaning that you'll see your hot and shiny new NFTs in your Ethereum wallet in just a few moments.
Best of all, there will only ever be 11,111 NFTs minted at 8biticon, meaning that you now own a piece of history. You're a part of the 8-bit art legacy, just like Goldberg and Flegal, the pixel art pioneers.
It's time to decide what to do next. Are you going to take advantage of the automatic listing tool and sell your hot collection on Opensea? Are you going to show off your collection all around the world? Are you going to store it forever in your Ethereum wallet?
The power is in your hands, so use it wisely!
NFTs that keep on bringing!
8biticon doesn't just let you create NFT avatars. You become part of the global 8bit community and get rewarded for it with never-ending perks and goodies!
8bit me in
A roadmap caked in legacy and packed full of ambition
1.Launch the world's first pixel art creation tool in 2012
2.Pioneer the 8-bit art industry with market-leading tools
3.Inspire a wave of punk 8-bit style art that's given away for free in 2017
4.Give users the power to create their own NFTs using a battle-tested web application
5.Rare, super rare and unique element airdrops and community giveaways
6.Cross-project sync with top NFT collections
7.Build a safe space for community members to hang out and chew the fat
8.Reap the rewards from other NFT projects thanks to point 6
9.Chosen as the official tool for creating ID cards on Mars
NFT pixel art that outgrows its own platform!
All planned partnerships with NFT and gaming projects mean that you get access to drops that go beyond 8biticon. Join our socials to stay in the know...